brk inleesmodule
Levering van kadastrale data tot werkbare processen in p8
Met de P8 BRK Inleesmodule heeft P8 Software een product ontwikkeld waarmee de levering van kadastrale data in eigen beheer plaatsvindt: de P8 BRK Inleesmodule.
Zonder tussenkomst van andere partijen zijn wij verantwoordelijk voor de gehele leveringsketting: vanaf de levering vanuit Kadaster tot werkbare processen in de applicatie P8.
Onze inleesmodule is beter afgestemd op de functies dan datamanagers van derden, omdat wij exact weten welke informatie en historie relevant is voor uw werkzaamheden.
Als het gaat om perceel- en vastgoeddata, voorkomt deze manier van aanleveren van kadastrale gegevens veel afstemming met andere leveranciers. Waardoor er geen fouten in de data ontstaan en u weer toekomt aan uw werkzaamheden.
Ook zien we dat andere datamanagers minder volledig of andere informatie ophalen.
Zo is het bij sommige datamanagers zelfs niet mogelijk om was/wordt informatie te ontsluiten.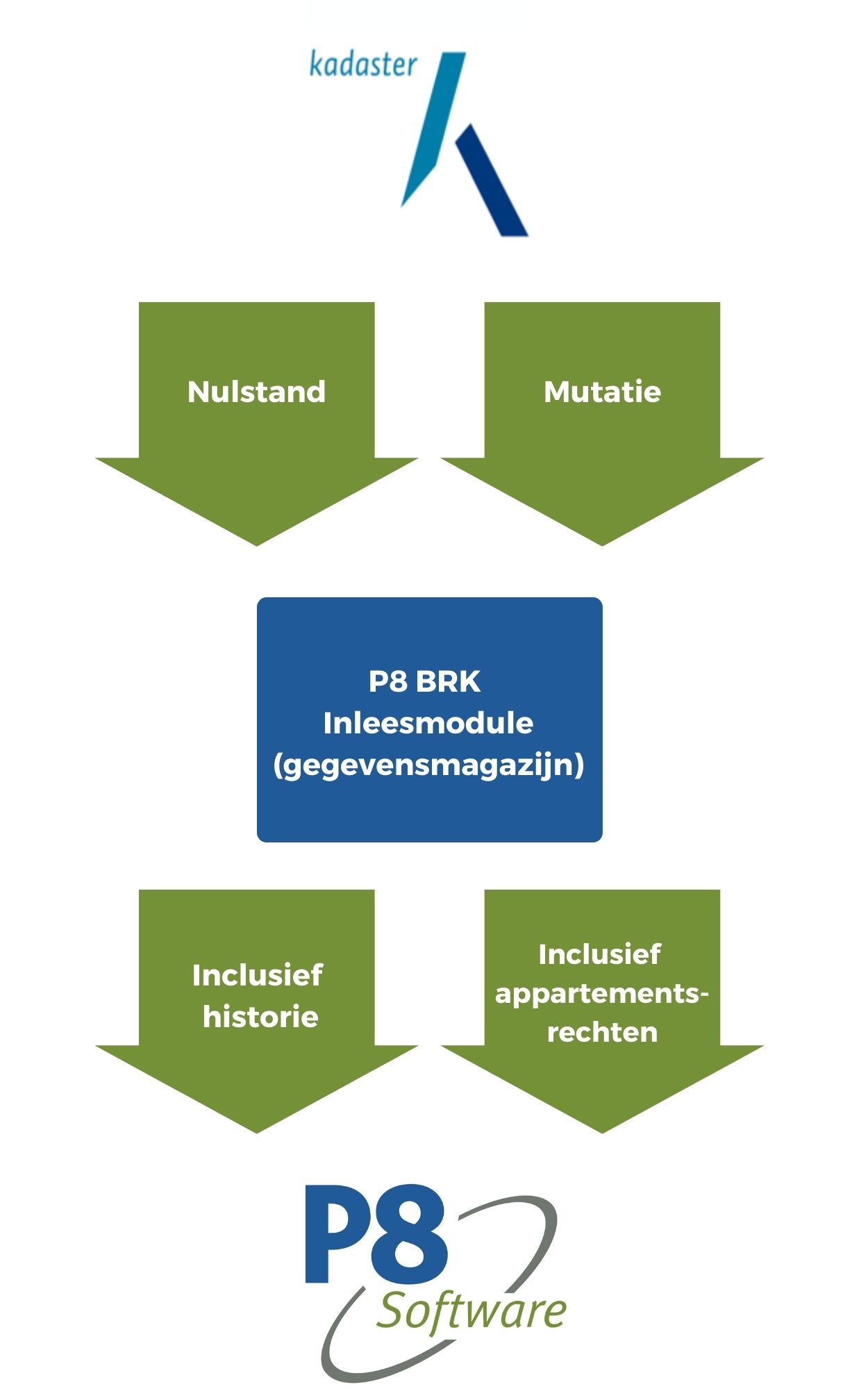 BAS
Uw data-inleesmodule in huis of als SAAS volgens Common Ground principes
DIO – Data Inlees Oplossing
De Data Inlees Oplossing zorgt ervoor dat de juiste informatie op een eenduidige wijze wordt opgeslagen. Deze ontvangt altijd op een juiste en eenduidige wijze ongeacht welke databron het betreft. Dit kan een basisregistratie zijn, maar ook een willekeurige externe aanbieder van gegevens of data. U kunt zelf de juiste datasets uploaden (of dit door P8 Software laten doen).
Met deze data kunnen op een ander moment kaarten, analyses en/ of rapportages gemaakt worden. De  beheerder kan eenvoudig ETL processen aanmaken, wijzigen en opslaan. Authenticatie bepaalt wie toegang heeft tot welke database en processen. Bijna iedere database alsmede veel uitwisselingsformaten worden ondersteund.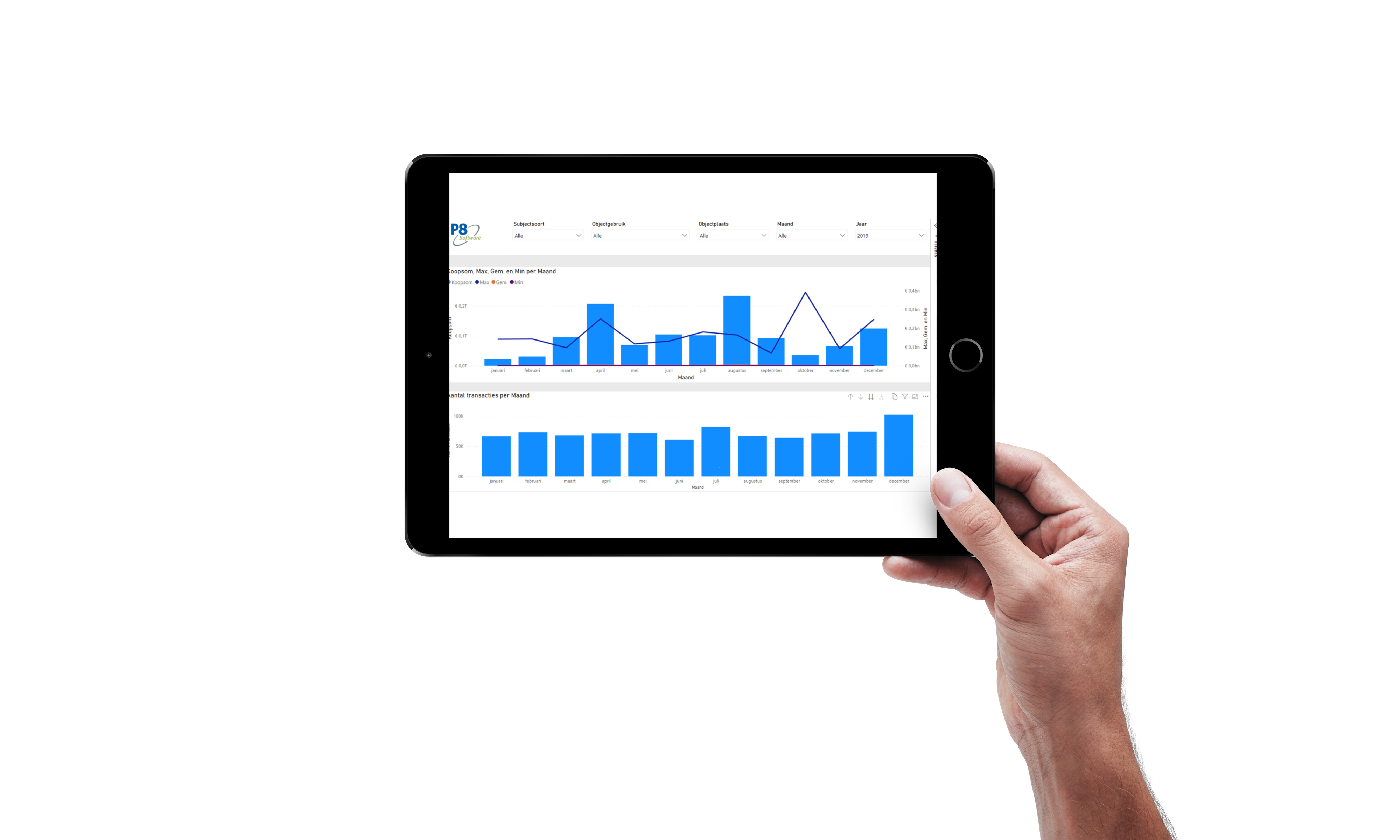 GM – Gegevensmagazijn
De gegevensopslag bestaat uit een datawarehouse (Pentaho®). De opslag ondersteunt alle administratieve en geografische gegevens. Naast voorgedefinieerde schema's voor eenmalige opslag en efficiënt gebruik van basisregistraties, kan het Gegevens Magazijn ook elke andere dataset opnemen.
Alle informatie kan voor de verschillende applicaties en gebruikers beschikbaar komen. Ofwel via onze eigen GIS-viewer binnen P8, de stand-alone GIS-viewer P8Map of via Gis-viewers van derden. Alle Basisregistraties BRK-1, BRK-2, BAG, NHR, BRT, BGT, WOZ en BRP (BSN's) worden in samenhang opgeslagen en gekoppeld met de landelijke voorzieningen.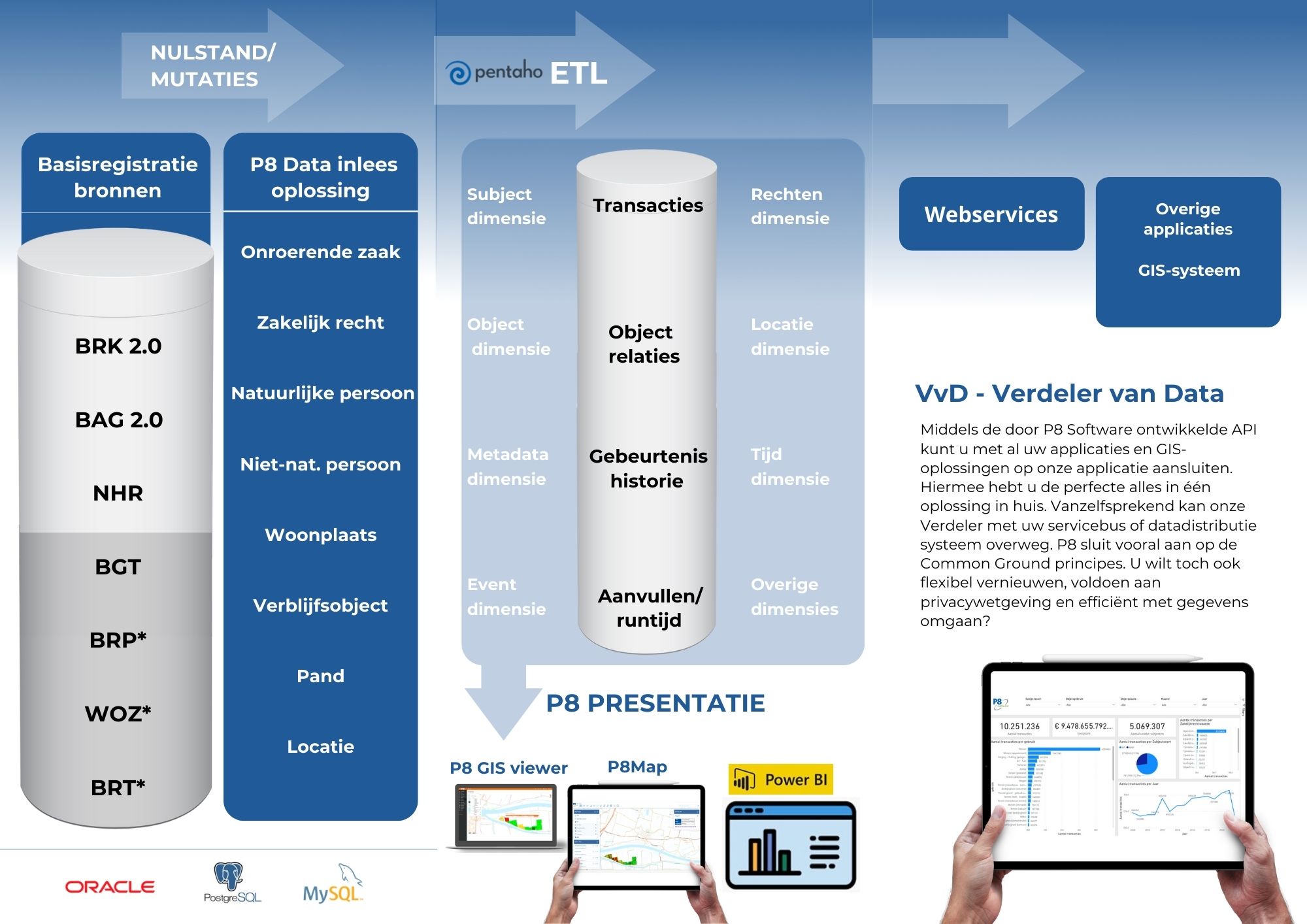 Bekijk ook onze andere producten
Bent u benieuwd naar onze oplossingen?
Neem dan contact met ons op.